Meet Cindy Leung,
North Sydney Chiropractor
Developing an Interest in Helping Others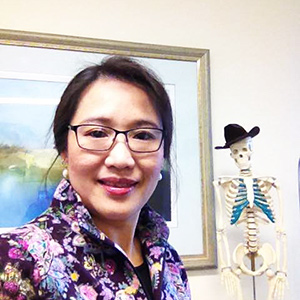 Early on, Cindy knew that she wanted to become a chiropractor. She was at a career market day in year 11 and 12 and met a chiropractor there.
He told me about chiropractic's hands-on, conservative treatment approach. I wanted to go into healthcare and look after people.
Cindy Leung, Chiropractor North Sydney
For Cindy, chiropractic was a natural fit.
Cindy is a member of Chiropractic Australia and COCA and helps edit the Chiropractic Australia Journal Club. The clubs extensive Dropbox database is a valuable resource on current best practice and patient care.
Sharing Chiropractic With the North Sydney Area
Cindy achieved her Bachelor of Science in Anatomy from the University of New South Wales. Next, she attended Macquarie University to get her Master of Chiropractic and met Adrian while studying there. She practices out of both practice locations but is primarily at our North Sydney clinic.
With two teenage boys, Cindy and Adrian enjoy time at home with the family. She also likes Scuba diving, cooking and baking.
Schedule a convenient appointment at our North Sydney clinic during our extended evening hours. Our team look forward to discovering how we may help you!

Chiro Centre in North Sydney | (02) 9955 5400